| | |
| --- | --- |
| Posted on February 28, 2011 at 3:45 PM | |
This weekend I was in Rjukan with Morten during the Ice Festival. We had hoped to do some routes in Sector Arne, but nothing had formed properly. Luckily we spotted a potential line while we walked back to Krokan where the festival was held. I linked the moves on top rope and we returned the next day with a drill and placed two bolts to protect the start, which did not take gear. The climb is very short, but quite bouldery and it was definitely worth the effort to bolt this line. The route was repeated by Morten and Mikkel within a day and hopefully more ascents will follow this season.
Another fun experience was giving Vince Anderson a belay when he sprinted up another M7 in Krokan that day. He was in town to give a talk about his alpine style ascent of the Rupal Face at the Ice Festival and as expected he was climbing fast and solid. Norwegian alpinist Bjørn-Eivind Årtun also gave a talk about his new route "Dracula" on Foraker. These two talks really supplemented each other and focused on the high level of commitment involved in alpine style climbing. I only wish more Danes would have been able to hear these two talks as that might have gotten the message through that climbing mountains with fixed ropes is as dead as the Soviet Union!
Malcolm Kent also gave a talk, but on a very different topic. He explained what it was like to compete in the ice world cup and showed photos of the different events and the climbers on the circuit. It was interesting to get an insight in this part of climbing that is limited to the strongest climbers in the world.
So all in all a very nice weekend!
There is a video of the actual first ascent of "Zendium" HERE.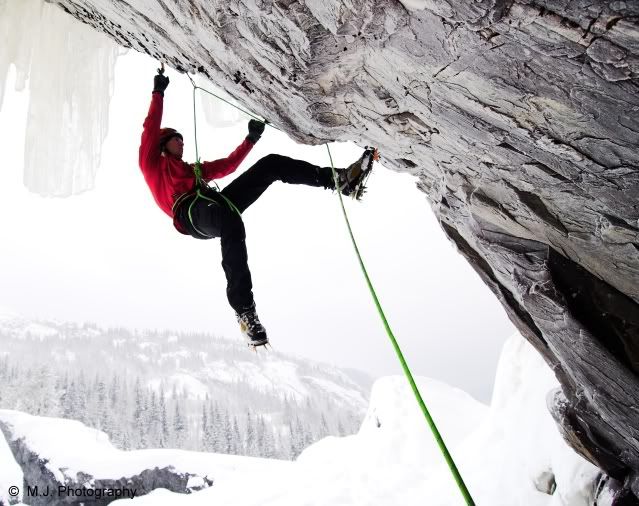 Me preparing for the crux move.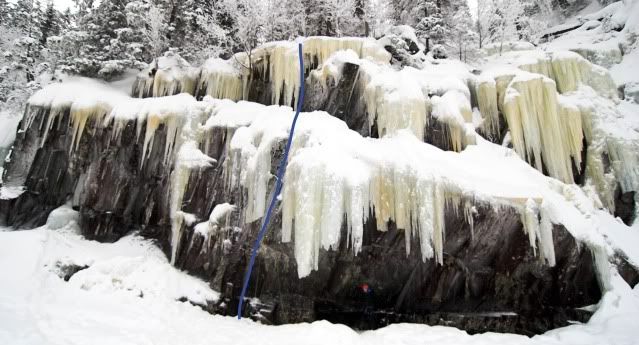 The line of "Zendium".