| | |
| --- | --- |
| Posted on February 20, 2011 at 3:26 AM | |
I finally got at chance to test if the training at Malcolm Kent's climbing Monastery has worked on a trip to the mixed mecca of Uschinen near Kandersteg, Switzerland.
The result after five days of climbing: Flash M9+, Powerbat M10-, Slice of Scheiss M10 and Twin Towers M10!
Conditions were pretty thin, which is why Powerbat and Slice of Scheiss are graded hard. Both routes only had ice at the very end of the climb thus giving much more steep climbing than eg. Pink Panther on which you just swing over on ice and avoid pulling the lip of the roof.
Actually I felt that Slice of Scheiss was harder than Twin Towers, but with variable ice it is hard to give these routes an absolute grade anyway.

The French photographer Alexandre Buisse took some awesome photos on the trip: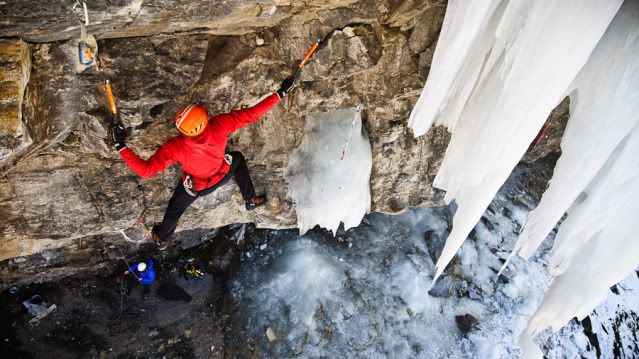 Powerbat M10-
Powerbat M10-
Twin Towers M10
Twin Towers M10